Expecting mother, Melissa Gutzwiller, thinks about what else she needs to take for the delivery of her newborn, daughter Alexis. As she thinks out loud she says, "I need my makeup!"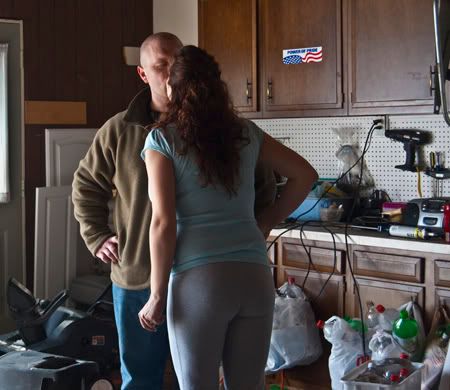 Expecting parents, Bill and Melissa Gutzwiller of Freeland, Mich. share a quick kiss after Melissa asks Bill to get down a car seat and swings down from the rafters in the garage on Tuesday, February 23, 2010.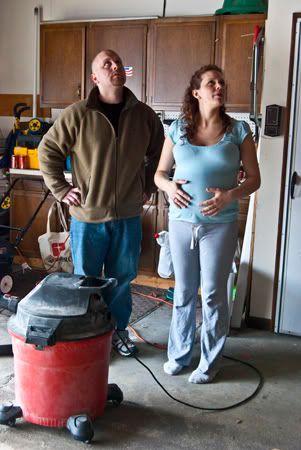 Looking a the daunting task ahead, expecting parents Bill and Melissa Gutwiller try to remember where the baby swings and car seat are at in the garage rafters. Bill has to get the baby's stuff down so Melissa can clean it.
"This is nesting...cleaning or as husbands say being crazy," Melissa Gutzwiller says. In preparation for the arrival of Alexis, Gutzwiller sits in a circle of baby gear as she scrubs everything down well.
Discussing whether or not save Alexis's cord blood, Bill and Melissa Gutzwiller try to decide if it would be worth spending the money on saving it. They are considering saving the blood for diabetes however, at this time there isn't much use for cord blood to treat diabetes. The Gutzwiller's older daughter Isabella has diabetes and the cord blood may be able to be used to treat medical issues Alexis may be prone to develop later in life.
Having a slight contraction, Melissa Gutzwiller takes a breath and a little break before she begins painting the baby bed she designed for her soon to be daughter, Alexis.